The Shift Toward Next Gen Lead Scoring & Segmentation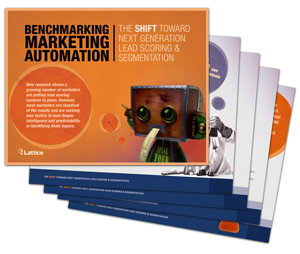 This new research study from
Decision Tree Labs
reveals a growing number of marketers are putting lead scoring systems in place to prioritize their best prospects
However, the study also revealed that marketers are still lacking confidence in the accuracy and effectiveness of their programs and are looking for new tools and tactics to add deeper intelligence and predictability in identifying likely buyers.
Access your complimentary copy of this report now to learn:
The percentage of marketers who are currently using lead scoring programs;
The top two factors behind the confidence gap in current scoring programs; and
The attributes and indicators advanced marketers are planning to utilize as part of next gen lead scoring programs.
Get your copy of this insightful report now and share it with your sales and marketing team!